2013 AMA Pro Motocross 250 Moto 2 Replay from Utah
Time
Stopwatch
43 min
Words by Jason Weigandt
Photos by Simon Cudby
A season once defined by the depth of competition had morphed into one headlined by domination. Late in the season, two riders took their performances to the next level, and turned what could have been a nail biting championship fights into runaway romps. And thus both the 450 and 250 championships were up for grabs at the next-to-last series round.
To prove their mastery of all terrains, the two would-be champions of the Lucas Oil Pro Motocross Championship would have to continue their run at all-new Built Ford Tough Utah National at Miller Motorsports Park. The race was a sharp contrast from last week's action at Unadilla in New York, yet the results ended up startilingly similar. And with that, it was enough Ryan Villopoto and Eli Tomac to claim the 450 and 250 National Championships.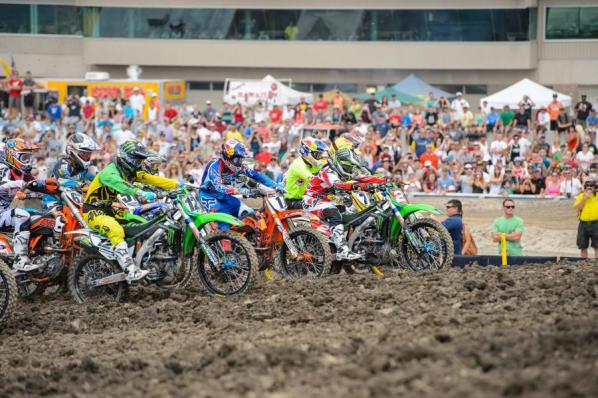 Cudby photo
Off the line in the first 450 moto, JGR Toyota Yamaha's Justin Brayton (not pictured) came from the outside to lead everyone into the first turn. But Ryan Villopoto (2) knifed inside to steal the lead at the exit of turn one.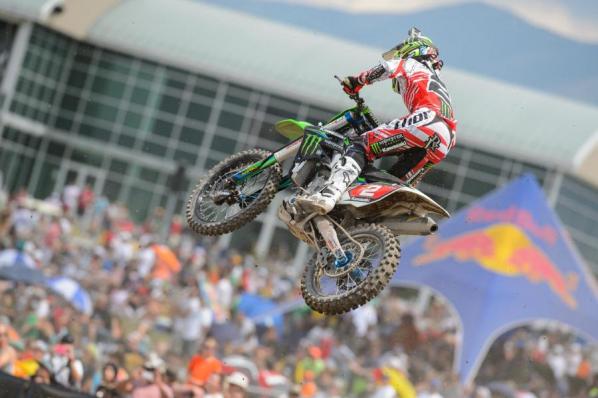 Cudby photo
Villopoto's incredible speed from Unadilla carried right over to Utah, as he immediately began opening up a gap on the field.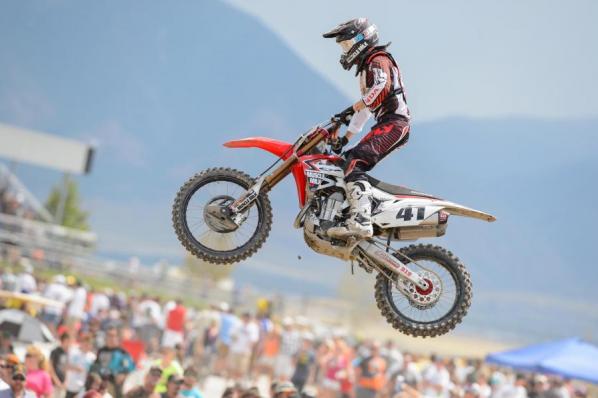 Cudby photo
Trey Canard (41), James Stewart and Ryan Dungey began a battle for second.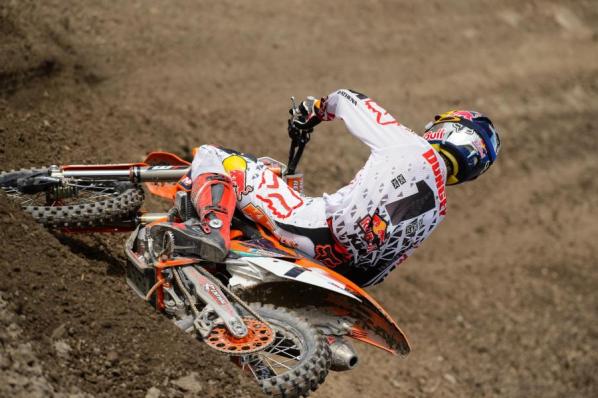 Cudby photo
Stewart, suffering from a neck injury inflicted last week, was running in fourth at one point but eventually pulled off. Dungey (1) would come through for second, while Canard pulled held on for a third.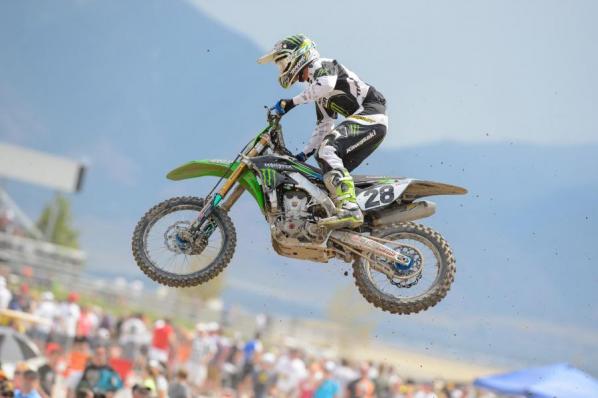 Cudby photo
After a rough season, Tyla Rattray finally put himself back among the front runners with a strong fourth.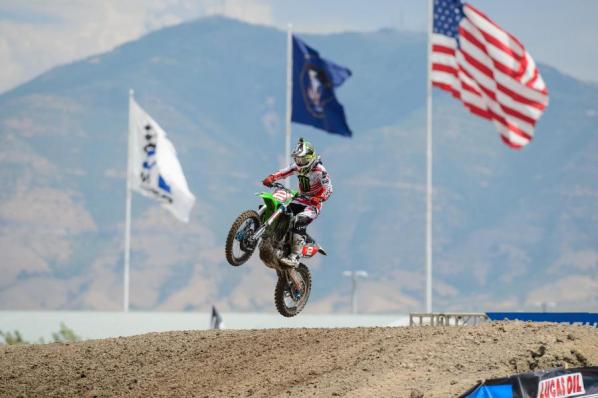 Cudby photo
Villopoto's big win was the big story...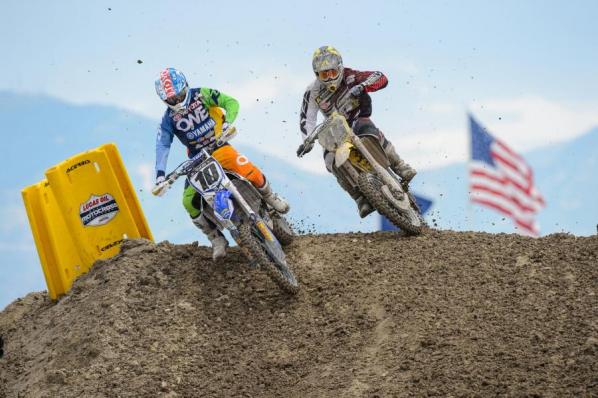 Cudby photo
...but (46) Weston Peick's privateer charge was impressive, too. He climbed past the likes of Brayton (10) to finish fifth.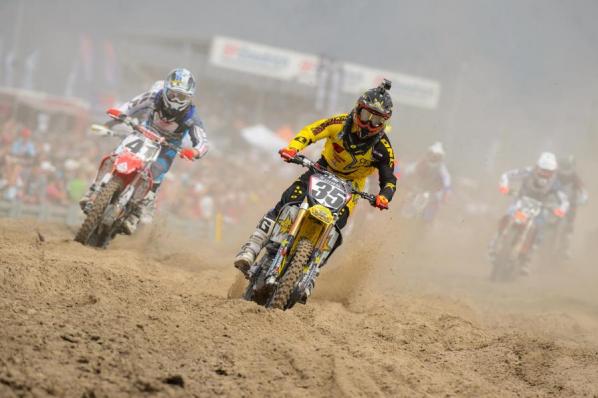 Cudby photo
In the second moto, Ryan Sipes (35) grabbed the Motorcycle-Superstore.com holeshot on his Rockstar Energy Racing ride, but Villopoto, Dungey and Canard (41) were right there with him.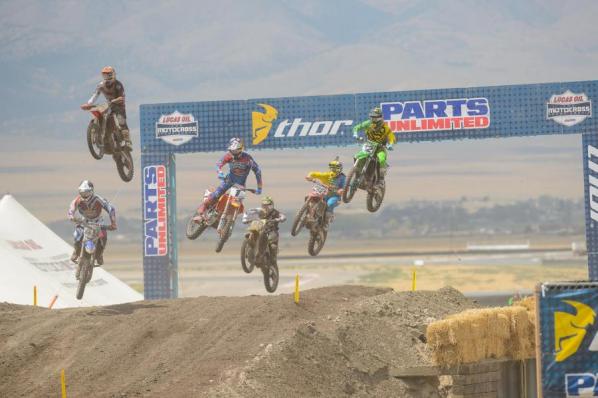 Cudby photo
Soon Villopoto was into the lead again. It was crazy back there behind him, though!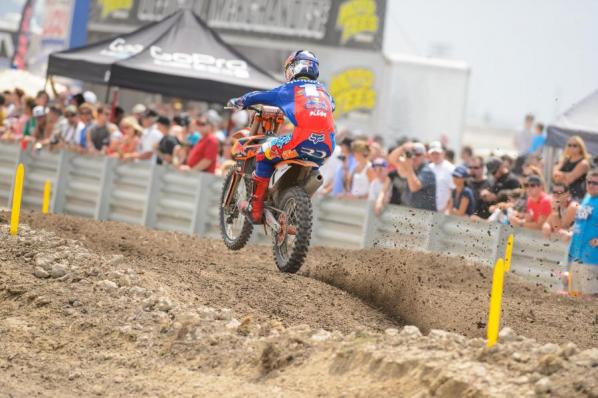 Cudby photo
Sipes bobbled and Dungey took over second, and the race was on between the two title contenders. Dungey needed to beat Villopoto to prevent handing over his number one plate, and he hustled early.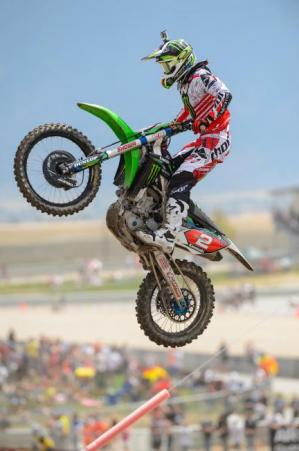 Cudby photo
Once again though, Villopoto's speed was too much, and he inched away from Dungey to notch his fourth-straight moto win.
A good battle for third emerged late, with Canard and his teammate Justin Barcia. Barcia pushed Canard all the way to the end, but Canard held on for 3-3 scores and third overall.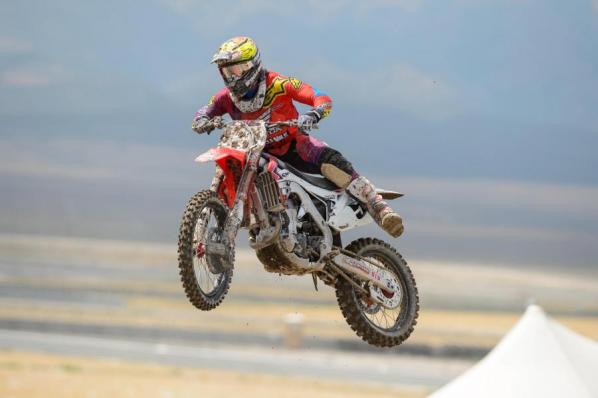 Cudby photo
Barcia had a rough first moto, as he was trying to get into the top ten before being taken down by Malcolm Stewart--the move was blatant enouhg by Malcolm that it would appear obvious that Barcia did something to deserve it. "Supposedly I did something before that, but nothing that I can remember," said Barcia. He bounced back in moto two for fourth, with a messed up header pipe, too. And Peick was a darned hero again with another fifth!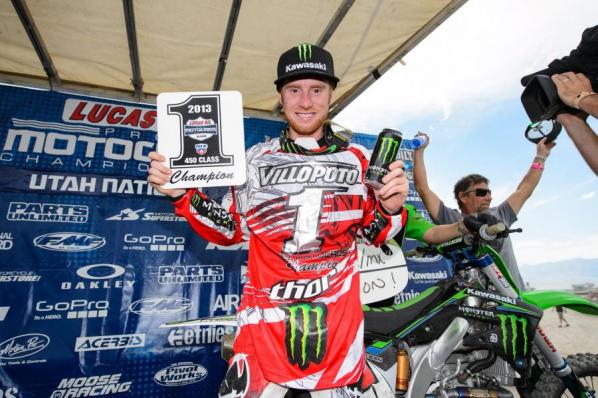 Cudby photo
Villopoto's 1-1 was enough to seal up the 2013 championship a round early. He's won an outdoor title in every full season he has ever completed!
In the first 250 moto, Monster Energy Pro Circuit Kawasaki's Martin Davalos grabbed the Motorcycle-Superstore.com holeshot, but pressure was quickly applied by about ten riders. The 250 class is nut in the opening laps. Zach Osborne was eventually able to get into the lead on his GEICO Honda.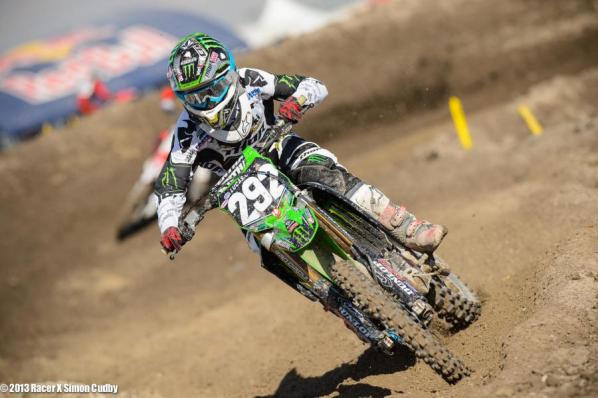 Cudby photo
Rookie Monster Energy Pro Circuit Kawasaki rider Adam Cianciarulo came out of his shell in this one, running hard early and making a charge for second at one point.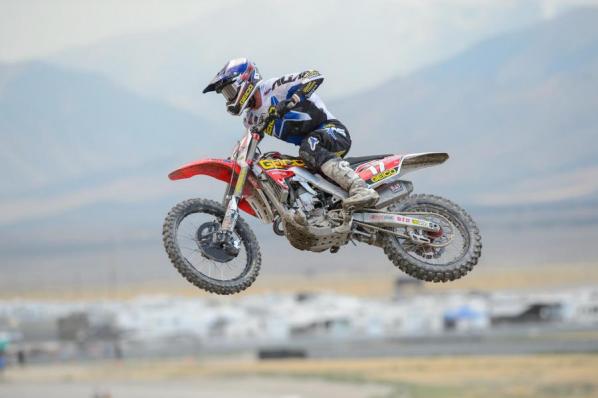 Cudby photo
But then, Eli Tomac came through the pack, as usual, and started chewing up the field. Cianciarulo bobbled, Tomac took second, and then caught and passed Osborne for the lead.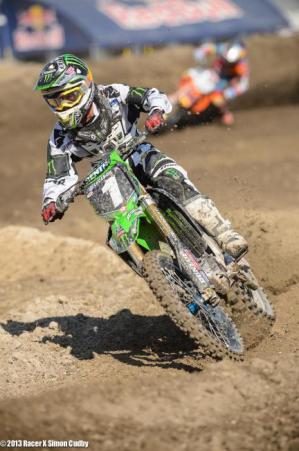 Cudby photo
Blake Baggett got a bad start, but he put on one of his old El Chupacabra charges and started moving forward. He was able to get around Osborne and then get into a battle with his teammate Cianciarulo for second.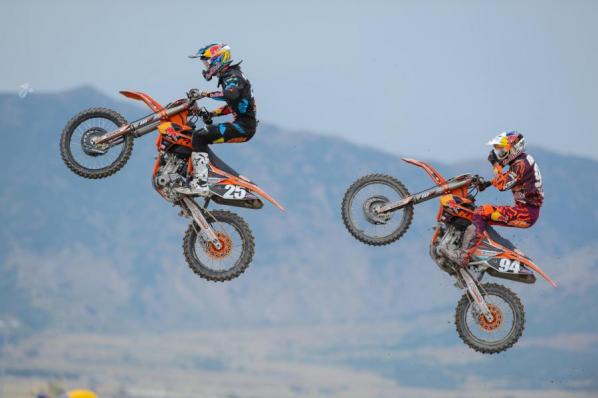 Cudby photo
Ken Roczen (94) needed to stop Tomac from opening his points lead up, but he got a bad start and was only able to work his way up to fourth by moto's end. His Red Bull KTM teammate Marvin Musquin was there with him.
Tomac pulled out his seventh-straight moto win, with Baggett much improved in second. Cianciarulo's third was a much-needed podium breakthrough.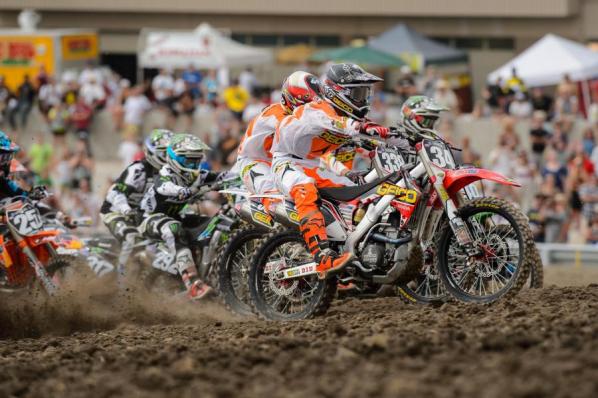 Cudby photo
In moto two, Justin Bogle put his GEICO Honda up front early and led a few laps. Again, the pack was furious behind him as a tremendous battle broke out.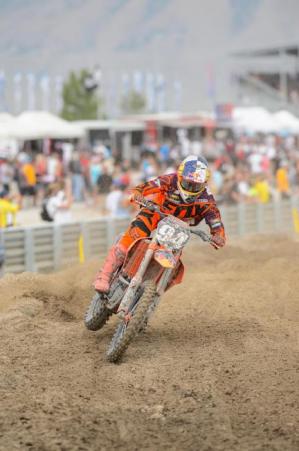 Cudby photo
Roczen was on the gas early in this one and determined to stave off the Tomac championship celebration. He tracked down Bogle and took off with the lead.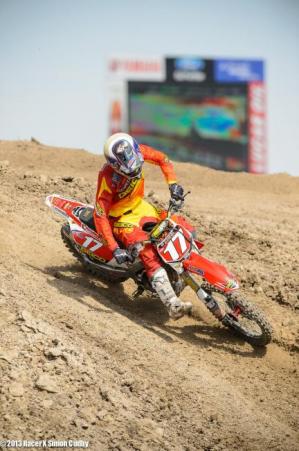 Cudby photo
Tomac battled through that furious pack to get to third, and then got his teammate Bogle for second. Then a furious windstorm broke out and dust from the infield started flying everywhere! Tomac had more trouble to deal with when his rear brake began to fade. After a few laps, the wind settled down (slightly) Tomac's brakes came back, and he went after Roczen. They battled hard with a few passes, but eventually Tomac was around him and heading to his eighth-straight moto win.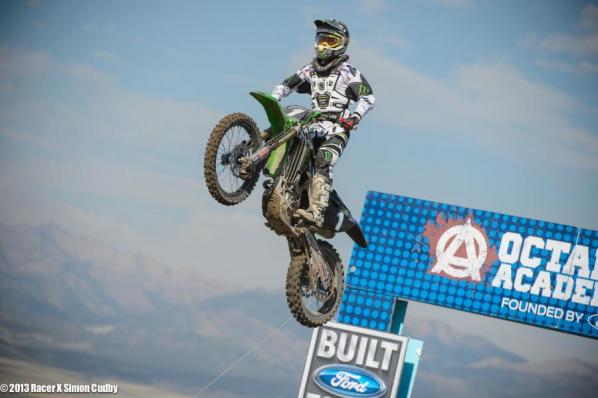 Cudby photo
Roczen's second would have been barely enough to prevent Tomac from clinching the title, but Baggett had come from the back with a furious charge and got to Roczen's rear wheel on the last lap. The title was hanging in the balance as Baggett and Roczen battled, and Baggett managed to make the pass. He did go temporarily off the track, but then Roczen passed him back, anyway. After the next turn, Baggett cleared a double that Roczen couldn't, and Baggett moved into second again. MX Sports race officials ruled that while Baggett had gone off the track, he did not make the final pass on Roczen until the next turn, so he was not penalized.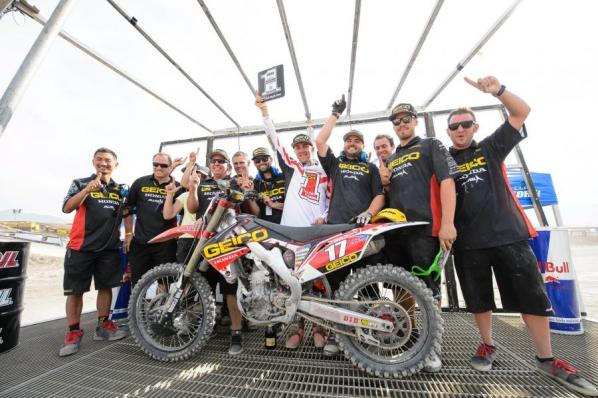 Cudby photo
Tomac was shocked to have won so quickly. Roczen battled back hard against Baggett but ended up missing second place by mere inches, and that was enough to give Tomac the title. He's your new 250 National Champion! Tomac and his team celebrated on the podium, which had to have the backdrop taken down due to all the wind. It was a crazy final moto of the day!
450MX Overall Results
1. Ryan Villopoto 1-1 Kaw
2. Ryan Dungey 2-2 KTM
3. Trey Canard 3-3 Hon
4. Weston Peick 5-5 Suz
5. Justin Brayton 6-7
6. Justin Barcia 11-4
7. Jake Weimer 8-6 Kaw
8. Phil Nicoletti 12-8 Yam
9. Matt Goerke 9-11 KTM
10. Ben LaMay 13-10 Yam
11. Andrew Short 15-9 KTM
12. Tyla Rattray 4-25 Kaw
13. Ryan Sipes 7-26 Suz
14. Evgeny Mikhaylov 18-12 KTM
15. Nick Wey 17-13 Kaw
16. Malcolm Stewart 10-29 Hon
17. Akira Narita 23-14 Hon
18. Derek Anderson 19-16 Kaw
19. Broc Tickle 14-32 Suz
20. Michael Byrne 21-15 KTM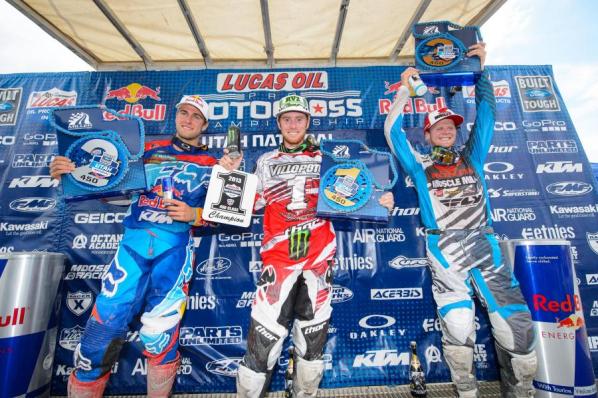 Dungey, Villopoto and Canard (L to R) on the 450 podium.
Click HERE for the full 450MX overall results.
450MX Point Standings
1. Ryan Villopoto 513
2. Ryan Dungey 463
3. Justin Barcia 375
4. Trey Canard 303
5. James Stewart 289
6. Jake Weimer 244
7. Andrew Short 238
8. Broc Tickle 216
9. Josh Grant
10. Mike Alessi
11. Phil Nicoletti
12. Malcolm Stewart
13. Justin Brayton 182
14. Tyla Rattray 169
15. Chad Reed 157
16. Ryan Sipes 132
17. Weston Peick 88
18. Ben LaMay 70
19. Clement Desalle 58
20. Brett Metcalfe 70
Click HERE for full 450MX point standings.
250MX Overall Results
1. Eli Tomac 1-1 Hon
2. Blake Baggett 2-2 Kaw
3. Ken Roczen 4-3 KTM
4. Adam Ciancianrulo 3-9 Kaw
5. Justin Bogle 9-4 Hon
6. Darryn Durham 8-5 Kaw
7. Marvin Musquin 5-8 KTM
8. Cooper Webb 7-7 Yam
9. Zach Osborne 6-10 Hon
10. Justin Hill 10-14 Kaw
11. Wil Hahn 12-13 Hon
12. Jeremy Martin 37-6
13. Jessy Nelson 14-15 Hon
14. Cole Seely 19-12 Hon
15. Kyle Cunningham 36-11 Yam
16. Martin Davalos 11-37 Kaw
17. Shane McElrath 17-16 Hon
18. Alex Martin 15-19 Yam
19. Jason Anderson 13-28 Suz
20. Matt Bisceglia 20-17 Hon
Click HERE for full 250MX overall results.
250MX Point Standings
1. Eli Tomac 505
2. Ken Roczen 454
3. Marvin Musquin 388
4. Blake Baggett 373
5. Zach Osborne 322
6. Justin Bogle 268
7. Jeremy Martin 264
8. Jason Anderson 256
9. Cooper Webb 217
10. Kyle Cunningham 214
11. Cole Seely 203
12. Justin Hill 196
13. Darryn Durham 157
14. Martin Davalos 146
15. Wil Hahn 142
16. Adam Ciancianrulo 131
17. Joey Savatgy 89
18. Blake Wharton 85
19. Alex Martin 82
20. Kyle Peters 53
Click HERE for full 250MX point standings.
450 Moto 1 Results
1. Ryan Villopoto
2. Ryan Dungey
3. Trey Canard
4. Tyla Rattray
5. Weston Peick
6. Justin Brayton
7. Ryan Sipes
8. Jake Weimer
9. Matt Goerke
10. Malcolm Stewart
11. Justin Barcia
12. Phil Nicoletti
13. Ben LaMay
14. Broc Tickle
15. Andrew Short
16. Zack Freeberg
17. Nick Wey
18. Evengy Mikhaylov
19. Derek Anderson
20. Broc Scmelyun
Click HERE for full 450 Moto 1 results.
450 Moto 2 Results
1. Ryan Villopoto
2. Ryan Dungey
3. Trey Canard
4. Justin Barcia
5. Weston Peick
6. Jake Weimer
7. Justin Brayton
8. Phil Nicoletti
9. Andrew Short
10. Ben LaMay
11. Matt Goerke
12. Evgeny Mikhaylov
13. Nick Wey
14. Akira Narita
15. Michael Byrne
16. Derek Anderson
17. Austin Howell
18. Tucker Hibbert
19. Vann Martin
20. Adam Enticknap
Click HERE for full 450 Moto 2 results.
250 Moto 1 Results
Eli Tomac
Blake Baggett
Adam Cianciarulo
Ken Roczen
Marvin Musquin
Zach Osborne
Cooper Webb
Darryn Durham
Justin Bogle
Justin Hill
Martin Davalos
Wil Hahn
Jason Anderson
Jessy Nelson
Alex Martin
Michael Leib
Shane McElrath
Kyle Peters
Cole Seely
Matt Bisceglia
Click HERE for full 250MX moto 1 results.
250 Moto 2 Results
Eli Tomac
Blake Baggett
Ken Roczen
Justin Bogle
Darryn Durham
Jeremy Martin
Cooper Webb
Marvin Musquin
Adam Cianciarulo
Zach Osborne
Kyle Cunningham
Cole Seely
Wil Hahn
Justin Hill
Jessy Nelson
Shane McElrath
Matt Biscegila
Dakota Tedder
Alex Martin
Jake Baumert
Click HERE for full 250MX moto 2 results.